Office of Economic Development
Welcome
In this day and age, workforce development is a critical need of the global economy. As a result, the Office of Economic Development at Georgia Northwestern Technical College (GNTC) is committed to being a solution provider to employers combating workforce challenges.
GNTC is a unit of the Technical College System of Georgia that provides technical education to citizens throughout its nine-county service area across Northwest Georgia. Accredited by the Southern Association of Colleges and Schools Commission on Colleges, GNTC offers a comprehensive range of associate degrees, diplomas, and certificates. Furthermore, through the Office of Economic Development, GNTC offers flexibility to employers by providing customized workforce training, both for immediate and future needs.
At the Office of Economic Development, we are here to be an unlimited resource partner to our companies and communities. Whether learning about our various programs of study, apprenticeship opportunities, financial assistance, customized training, or professional development courses, the sky is the limit as to what GNTC can do to meet the needs of its customers.
While our focus is to build relationships within our service area, I also encourage you to facilitate a connection with our team. Doing so will expose you to the many resources and opportunities GNTC has to offer. At the end of the day, your success is our business, and why we continuously strive to be Northwest Georgia's premier workforce development partner.
What We Do
The Office of Economic Development serves the workforce development needs of Northwest Georgia by offering customized training solutions to employers, as well as professional continuing education courses to individuals throughout the GNTC service area. In addition, we are actively involved in the recruitment of new businesses and the expansion of existing businesses in partnership with various local and state partners.
Most training offered through the Office of Economic Development is flexible, short-term, delivered anywhere, and non-credit. Non-credit means upon completing training, the student is not receiving a Technical Certificate of Credit, Technical Diploma, or Associate of Applied Science Degree—which are our accredited program awards—but instead receives a Certificate of Completion from GNTC, and in some cases, obtain an industry-recognized credential. Non-credit also means certain federal and state financial aid programs are not applicable.
Determining Your Need
While we encourage you to email Economic Development or give us a call to learn about your training needs, below are helpful tips for determining the best resource at GNTC. For an idea of the type of training our office provides, please see our Flexible Offerings. If you cannot find what you are looking for, contact us. We may be able to customize it!
Are you an employer in need of training for at least six employees? Then Customized Workforce Training may be the best fit for you. Customized workforce training is a partnership where the Office of Economic Development and the employer work one-on-one to identify specific workforce training needs, customize a training solution, and implement the program. The program may be delivered on the employer's site or at one of GNTC's six campus locations. Whatever the need is, our goal is to customize the solution.
Are you an individual looking to improve or maintain your employability skills? How about a small business in need of training a small number of employees? If you answered yes to the previous questions, then our Continuing Education courses may be what you need. Continuing education courses are short-term classes designed and developed based on industry input and demand. Currently, continuing education offers courses in technical skills, workplace safety, leadership development, computer skills, CPR and Life Support, and Licensure Renewals.
Our Service Area
Georgia Northwestern Technical College has six campus locations and serves the nine counties of Catoosa, Chattooga, Dade, Floyd, Gordon, Murray, Polk, Walker, and Whitfield.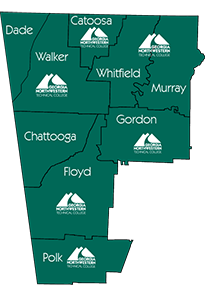 ---